Looking For A Corporate Function Band?
Your company's product launch, stock holders' meeting or corporate team building event is coming along well. You have the perfect venue, the higher ups have approved your budget and you've got the perfect caterer for the event. But your event would be incomplete without entertainment. Hiring a corporate function band for events such as yours can be a very difficult prospect typically because you need a band that ticks all of the boxes.
The Best Corporate Function Band in the UK…
We are Revolve, quite possibly the best band for any event. We are in the business of entertainment and we'll provide you with a quality performance for your corporate event. It is our goal to deliver you with adequate atmosphere whether you're hosting an upbeat event or a fancy sit down company event. Let's face it most people often think corporate events are boring. But with us, your event will be the talk of the town, not to mention successful which is your ultimate goal.
Invited guests to your corporate event will feature different people from different backgrounds and demographics. Revolve therefore are the ideal band to choose if you want to satisfy the "musical taste buds" of all your guests. Our range includes music from all genres from Motown, soul, pop, rock, or a combination of all four. We will work with you to come up with the perfect set list for your unique occasion.
Do you have a corporate theme you would like us to play? We are always open to playing special requests. Our unique sound will make that corporate theme song uniquely Revolve's, guaranteeing a rendition you won't hear anywhere else.
Our Unique Sound Integrates With Your Theme…
Our set up comprises of 2 powerful female vocalists who bring unique and tight harmonies, a guitarist, a bassist and a drummer who are guaranteed to make any song magical even if you've heard it a million times. Everywhere we play, we are accompanied by custom created tracks for brass, keys & synths that make our 5-piece band sound like a 9-piece band. The result is huge and cost effective.
We know how difficult it can be to plan the perfect corporate event. That's why when you hire Revolve we bring our own cutting edge sound and lighting equipment. With us, you get the full deal and don't have to run around trying to find the best PA systems for your evening. We've been working with the best equipment most of our band's career and so we know the right direction to bring for your particular playlists and how to get the best out of it. Regardless of the playlist you settle on, the combination of our unique mix and effective sound systems will keep your guests entertained to the maximum.
We Are a Complete Package…
Our services include the following although we will also provide additional services tailored to your unique event;
2x60 minute or 3x40 minute live sets
Free DJ Laptop service for between and after live sets to keep your dance-floor packed.

Superb repertoire featuring the finest classic and modern dance floor fillers

Professional P.A & Lighting System

Special request or first dance performed at your wedding or party

We come with PAT certified equipment and Public liability insurance

We are open to your suggestions and will be with you through the entire planning process.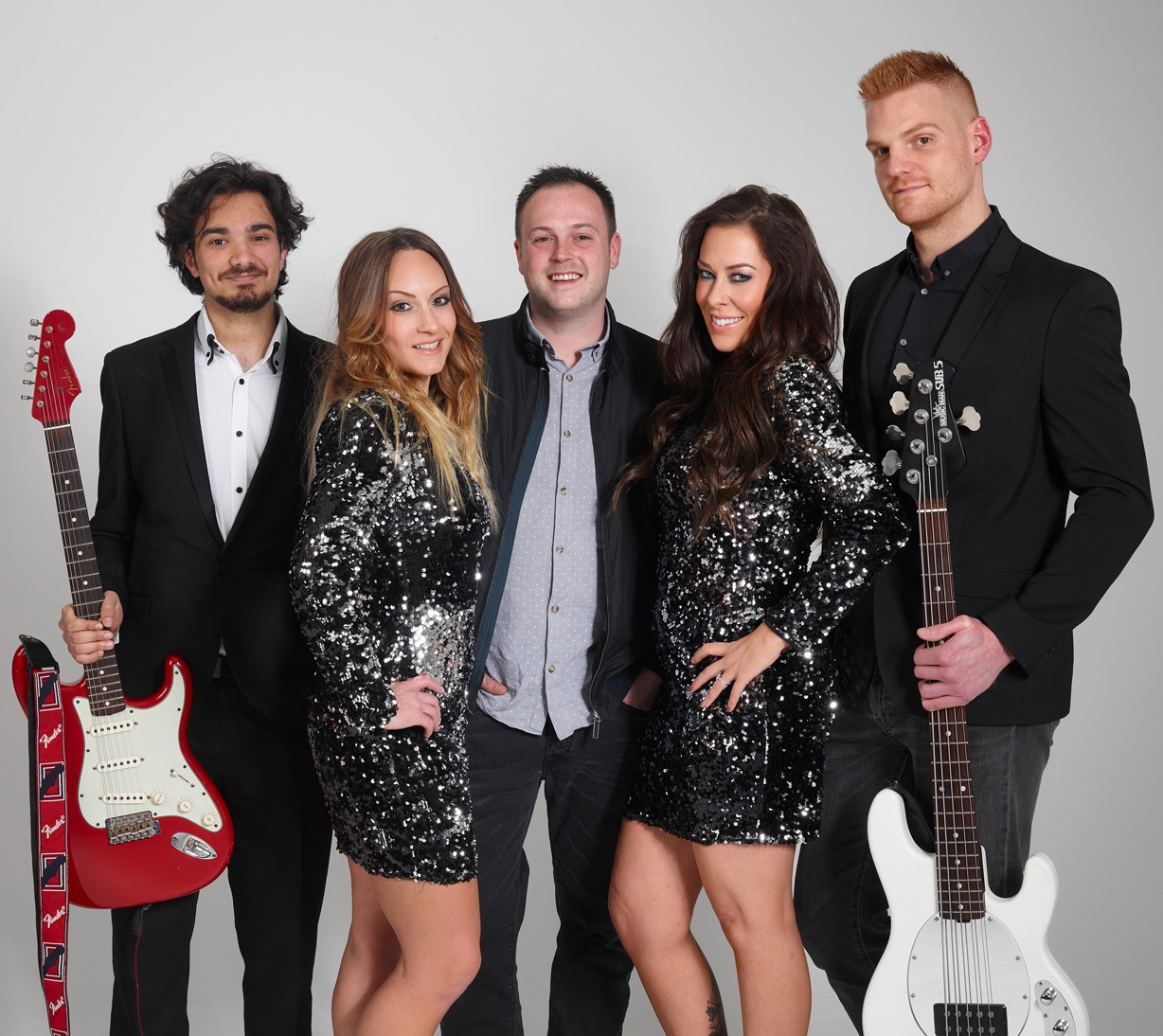 Our Experience is Unmatched…
It is your responsibility as the event planner to choose the right corporate function band with the necessary credentials. With musicians you can only judge their credentials based on experience. Revolve have been the headliner for countless corporate events and as such we fully understand what you need to make your occasion come alive. Our vast clientele includes other corporates, weddings and parties across the UK. We bring our best and each of our previous clients can attest to our professionalism.
Contacting us for bookings is easy and we are always available to help you plan the entertainment aspect to make sure your guests will be happy. Together we will come up with the perfect arrangement of songs you want us to play at your event. We will offer our expertise and extensive experience to help you make the entertainment aspect of your event just perfect!
That's what we do (and why). Now? All that's left is to find out whether we're available for your big night.
Let's see. Contact us today.