Looking For The Ultimate London Function Band?
You'll agree that it can be very difficult. Whether it is a wedding, a corporate function, a business launch or even a simple family get-together, getting all the logistics right can be a logistical nightmare. Most people think of the food, the venue and even the theme and ambience. Yet, sometimes they overlook the music. How many functions have you ever been to where they played the same song over and over? Or, have you ever been to a function where the DJ played music you didn't know or didn't like?
Music is perhaps the single most important aspect of any function. That's because music brings people together. When the London function band you choose to hire plays music that resonates with your guests, chances are your function will be successful even if everything else goes wrong. People remember a function more for the music than any other aspect.
The Only London Function Band to Choose
One of the best bands in London for any function you may be hosting is Revolve. As a band, we have the experience to bring only the best music to your function. We will in no way impose our own musical tastes to you, but we will work with what you want. It is our professional responsibility to make sure that you and your guests get to enjoy our performance. To do that, we learn what your music tastes are and incorporate those into our performance.
Our standard services are designed to meet this need. They include, but are not limited to the following;
2x60 minute or 3x40 minute live sets
Free DJ Laptop service for between and after live sets to keep your dance-floor filled
Superb repertoire featuring the finest classic and modern dance floor fillers
Professional P.A & Lighting System
Special request or first dance performed at your wedding or party
We come with PAT certified equipment and Public liability insurance
We are open to your suggestions and will be with you through the entire planning process.
Why Us
Our business is Music and we have been in this industry for a very long time. As such, we are aware of what your event needs to be memorable. Revolve are a 5-piece band that is made up of a drummer, a bassist, a guitarist and two female vocalists. The combination of these talented musicians creates a sound that is uniquely our own; you are unlikely to find any other London Function Band like Revolve.
Our vocalists are highly talented and when combined with the 10-string melody from our equally talented guitarist and bassists, the result is a magic. We transform any song that we perform and make it our own. As such we never play the same song twice. To further enhance the sound, every performance is accompanied by our handcrafted studio created tracks for brass, synths & keys to make our 5-piece band sound like a 9-piece. It's huge and cost effective.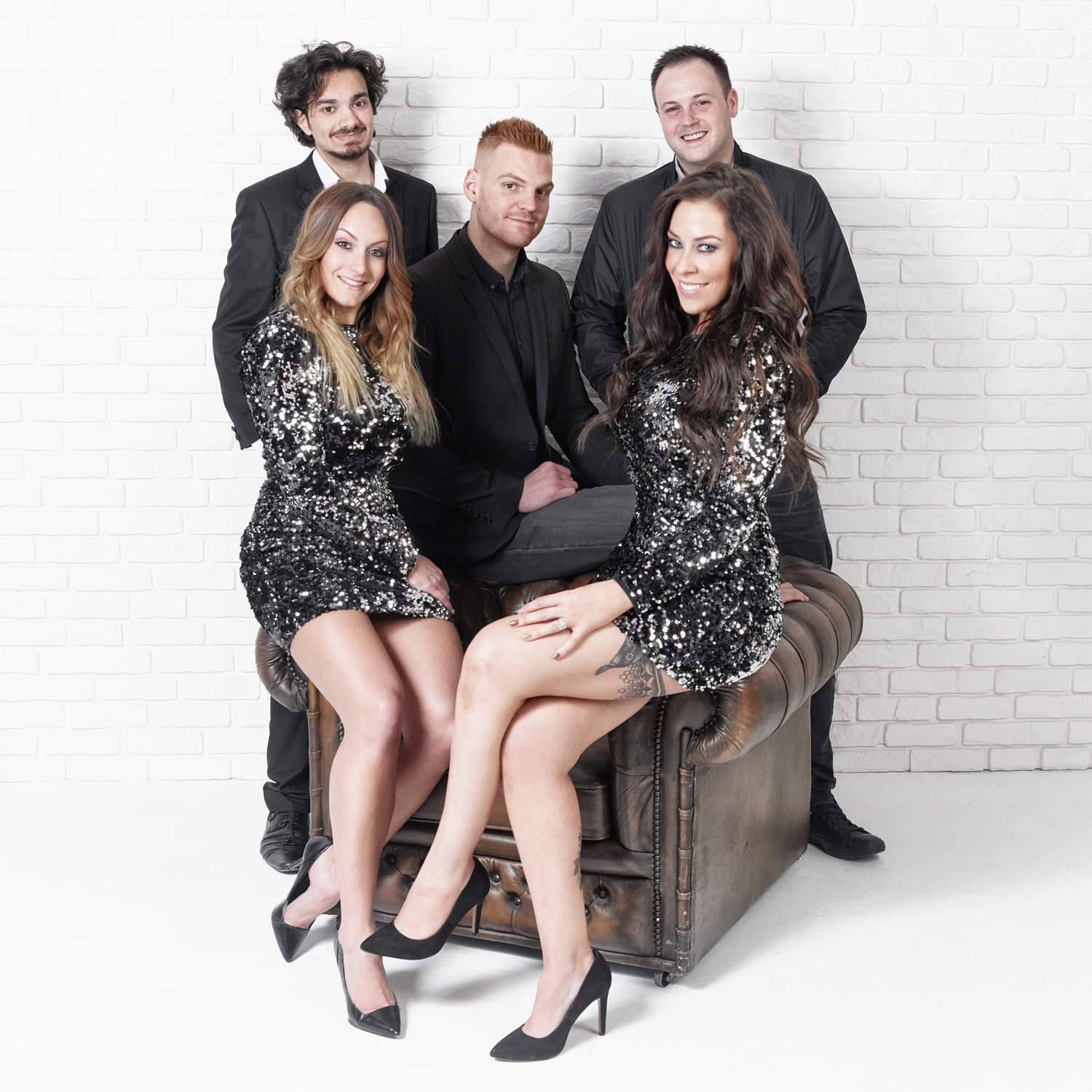 Quality Sound is Our Business
To enhance the quality of our performances, the sound equipment and stage lighting we use must be of the highest quality. This is why we have invested in our own professional equipment which is always present at our live events. By doing this, we also save you the added logistical problems you may encounter when trying to find the best quality sound & lighting systems. We know what we need and we bring it with us. All you have to worry about is what kind of music you want us to play and we'll take care of the rest.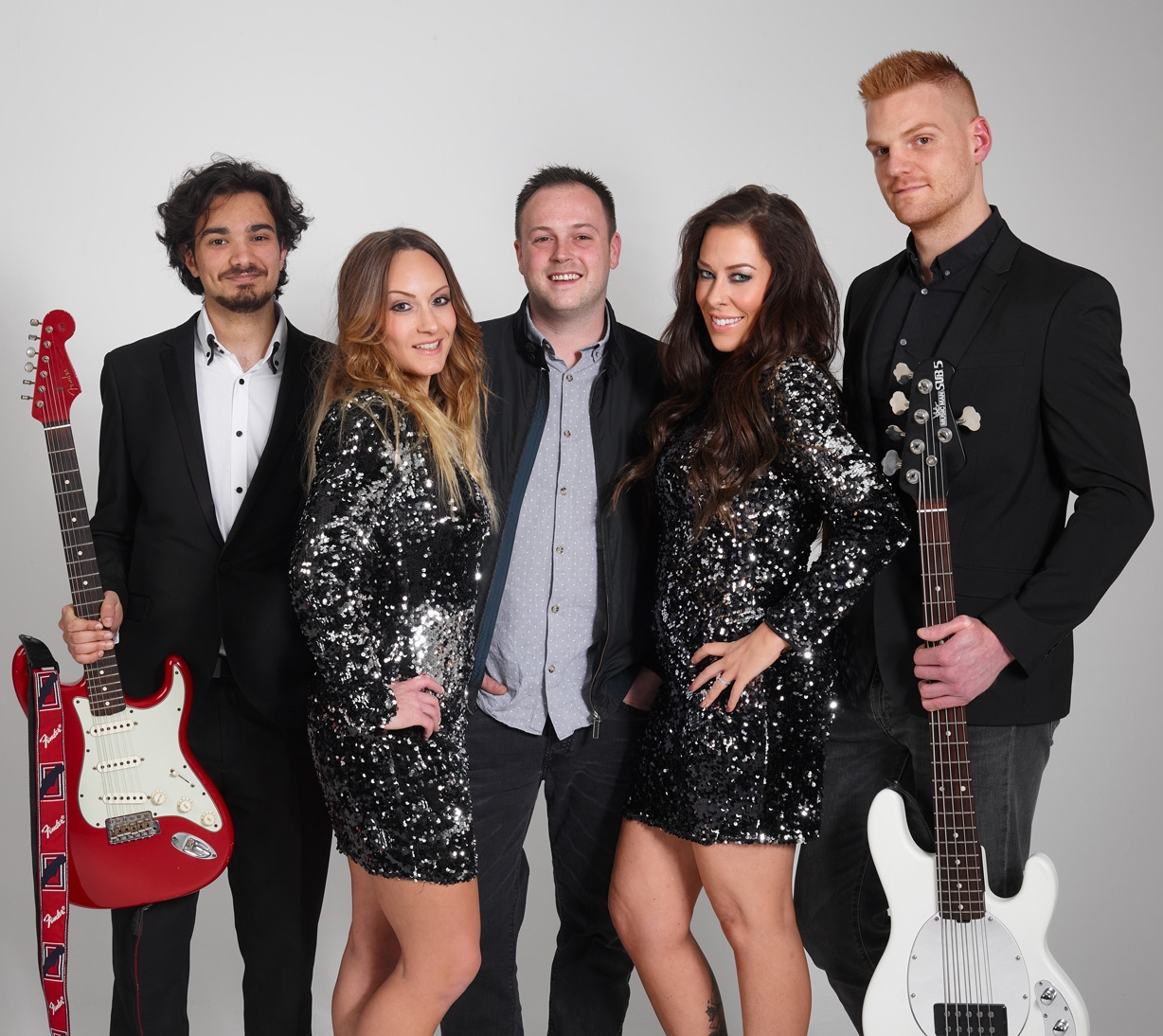 Our Experience Guarantees Your Entertainment
Revolve have been performing at functions just like yours for a long time. We've done countless corporate functions, weddings, parties and other events around the UK. In that time, we have gone through every imaginable scenario that could arise at a function and are fully prepared to deal with an eventuality. We are not part time musicians or hobbyists; this is what we do for a living and we've developed the necessary experience to make your occasion a success.
We strive to provide you with only the best entertainment. When you book us, you get a function band that understands your needs and desires. Contacting us early gives us adequate time to prepare for your event and provide you with only the best.
That's what we do (and why). Now? All that's left is to find out whether we're available for your big night.
Let's see. Contact us today.