Looking For The Best Party Band?
What makes a great party? Is it is the food, the perfect venue or good company? While all those things can make a party unforgettable, nothing makes a party memorable like the music. Music has a way of bringing people together and the best party band can make your party the talk of the town even if all other aspects like food and venue aren't that great. But how do you find the perfect band for your party? With so many bands available, the best party band is one that will give your guests exactly what they came for.
The Best Party Band You'll ever need…
The best party band you'll ever need for any kind of celebration is Revolve. We are music and music is what we do. We make it our professional responsibility to make your party the event of the century. We can't help you get the best venue or the best caterers for your party. But we can guarantee that we'll work perfectly with whatever theme or venue you have to make your party the most memorable it can be.
We Can Play Anything…
Your party likely has a theme. Whether it is a Christmas party, a New Year's party or even just a birthday party, having a central theme that even includes the kind of music you need is essential. As a live party band, it is our responsibility to seamlessly integrate with whatever theme you're working with. This means that we are able to play any song in any genre for any occasion.
We love to perform Motown, soul, modern music and not forgetting pop and rock if that is what you need. Our 5-piece band will seamlessly transition from one genre to another, keeping you party's dance floor full at all times.
Who we are…
Revolve are a 5-piece band comprised of a drummer, bassist, guitarist and 2 female vocalists. Each of our vocalists brings a separate harmony that compliments the 10-string magic created by our guitar and bass melodies. As a band, we have been together a long time which means that we understand each other well enough to make a song you hear every day uniquely different and memorable. Backing us up are our hand crafted studio tracks for brass, keys and synths that make this 5-piece band sound like a 9-piece. Our sound is huge and cost effective. It doesn't matter the size of your venue or crowd; we have adequate sound to wow everyone who shows up at your party.
The following is a list of what we have to offer although we can tailor our services to suit your needs;
2x60 minute or 3x40 minute live sets
Free DJ Laptop service for between and after live sets to keep your dance-floor filled

Superb repertoire featuring the finest classic and modern dance floor fillers

Professional P.A & Lighting System

Special request or first dance performed at your wedding or party

We come with PAT certified equipment and Public liability insurance

We are open to your suggestions and will be with you through the entire planning process.
We are available to you throughout the planning stage to ensure your party's entertainment is just how you want it.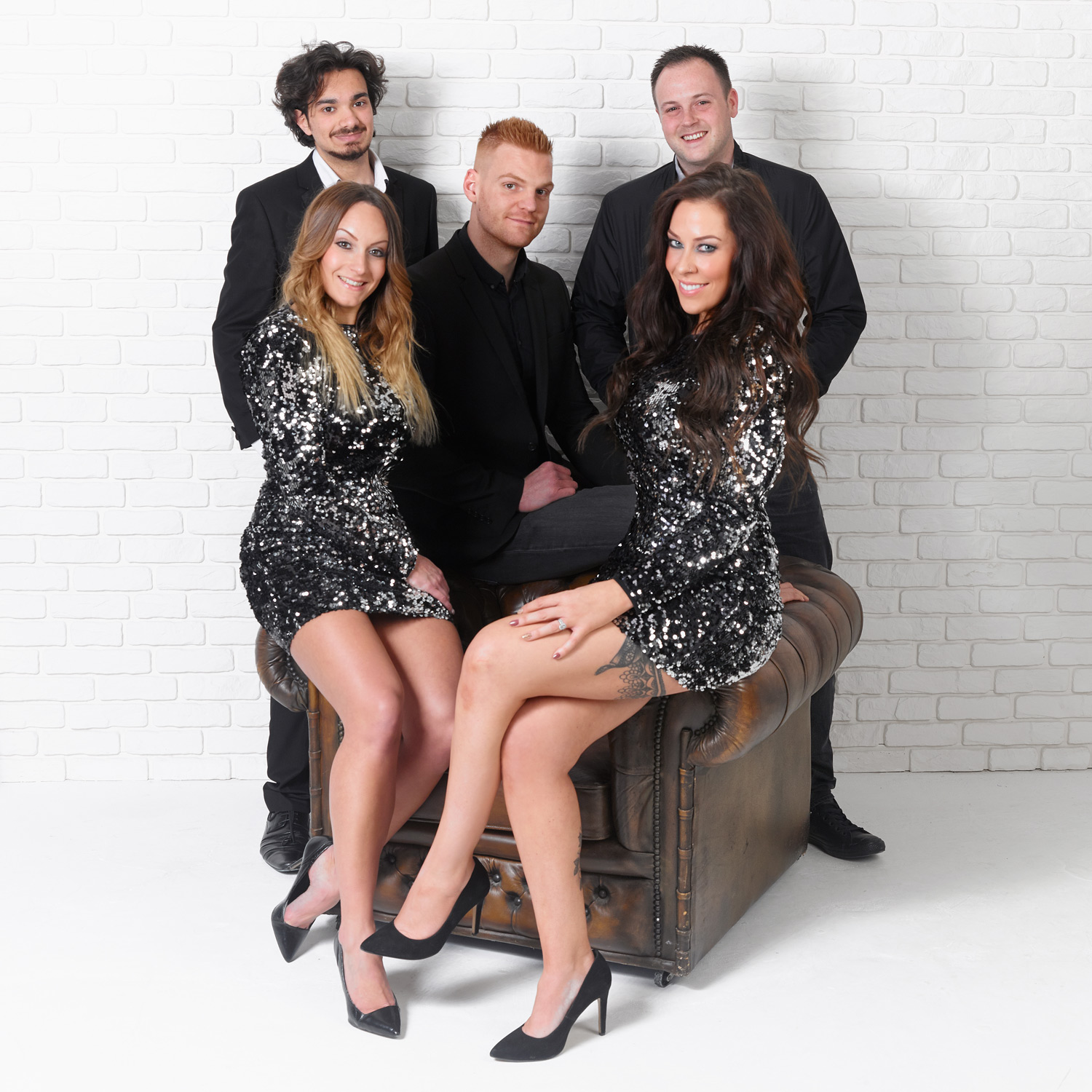 We'll Bring Everything We Need…
Planning a party is never easy which is why we invest in our own sound systems so you don't have to. When you hire us, we bring all the cutting edge, modern equipment necessary. This is not just convenient for you, but also ensures that we produce the best quality sound. We will also take the time to talk to you about what you need, gathering information on any aspect of the party that may affect the quality of the sound output, so that we can work adequately with your venue and space to give you only the best. We have been the live party band for many special occasions and always guarantee an unparalleled performance for your evening.
Our Experience is Unmatched….
A live party band can only make your party memorable if they know what they are doing. It is not unheard of for all kinds of problems to occur with the band you choose. Our experience means that we have been through every possible scenario. We are able to see the problem coming and plan accordingly to ensure your party remains unaffected.
Revolve have been together for a long time. We are fully aware of each other's styles, strengths and weaknesses. This creates a 5-member band that works together like a well-oiled machine. When you hire Revolve, you're getting a band that is dedicated to providing you with the best entertainment.
That's what we do (and why). Now? All that's left is to find out whether we're available for your big night.
Let's see. Contact us today.